If you're looking for a better golfing gear from a well-known brand that doesn't come with a heavy price tag, you must try and look at some Callaway Golf Preowned equipment.
These Callaway Certified Pre Owned stuff enables you to own a branded equipment inexpensively and enjoy playing golf even more.
Note that there are fake and imitations floating around so make sure that you're buying from authentic websites online or store.
Now, let's have a look on why buying pre-owned golf stuff from Callaway would be a great option for you.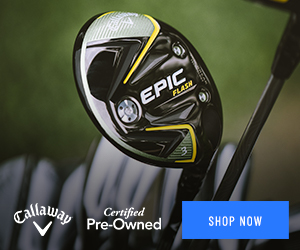 Top Reasons Why You Should Consider Callaway Golf Preowned Golf Gears
One of the best ways to ensure that you'll enjoy playing golf without burning your wallet is buying used golf equipment such as Callaway's.
If you are thinking if this is right for you, below are great reasons why you should look at Callaway Golf Pre Owned:
Condition Guarantee
With the condition guarantee, you can shop with confidence that you're getting the best possible quality out of every certified Callaway Preowned Golf Clubs.
There is a 100% money back guarantee if you think that the condition of the club didn't match what they have in their online store. Note that you will be responsible for all shipping costs if you return the club unless an incorrect product was shipped to you.
Price Protection Guarantee
There is a 14-day price protection guarantee offered by Callaway Golf Pre-Owned for the products you purchase. You must contact them within 14 days of the original date of purchase to be eligible for this guarantee.
Note that there are some items not qualified for this guarantee, like clearance products, other brand products, employee discounted products and products purchased up to 14 days before Black Friday or Cyber Monday.
Trade In, Trade Up Scheme
If you have existing Callaway Golf clubs or other brand equipment, you can trade them for a price that can lower your total cost to upgrade which is a nice scheme towards a better set of clubs for you.
Note though that there are rules and conditions towards a trade so make sure that you read through these rules first.
Great Customer Feedback
As a testament to their excellent customer service, Callaway Pre Owned gets outstanding feedback from their customers.
90 Day Buy-Back Policy
The buy back policy offers a great way for you to buy and try the club you want for up to 90 days. If you don't like the club, you can sell it back to Callaway for a preset store credit value.
The in-store credit is good for one year and you can use it to purchase any other product from Callaway Pre-Owned. The amount of the club buy-back value will depend on how long you have played the club.
Excellent Customer Service
Callaway is well known for their outstanding customer service and you can actually speak with a trained Callaway expert if you have questions or need help on your order.
12-Month Warranty
The 12-month warranty for certified pre-owned club is a warranty against defects. If something happens to your club that is related to an original manufacturing defect, Callaway will fix or replace your club.
Flat-Rate Shipping
For anywhere in the contiguous US, a shipping fee of less than $10 per order shall be charged, no matter how many items your purchase.
Certificate of Authenticity
Every club you buy will come with a Certificate of Authenticity, so you'll have peace of mind knowing that you bought a genuine product from Callaway.
Online Customization
If you want customized clubs, you can change nearly any specification that will fit your requirement. You just have to click the "Customize" button before adding the product to your Cart.
Free Headcover
if you buy a driver, fairway wood or a hybrid, a free headcover will be included in your purchase.
If you're after a dependable, quality golf products, the Callaway Pre-Owned Golf is the absolute best place to find the best used and authentic Callaway equipment that offers quality and affordability.
It is also a great place to trade-in your old set with their Trade In, Trade Up scheme and they will give you a reasonable value for your old stuff.

Callaway is a very popular brand, and their products are used by golfers in all handicap groups all over the world so rest assured that you'll be owning products from one of the respected manufacturers in golf.
You will also have peace of mind knowing that there's an excellent customer service and guarantees in place behind the Callaway Golf Preowned.