Callaway Preowned Irons offer a great sense of affordability for golfers wanting to own these award-winning, high-quality set of clubs.
Callaway irons are famous for their distance and outrageous speed, and there is an iron for every golfer in their inventory of used or pre owned irons.
Callaway Pre Owned Irons Set still have the best quality even if the price is much lesser compared to new iron sets, thus, it makes sense to buy the cheaper version instead.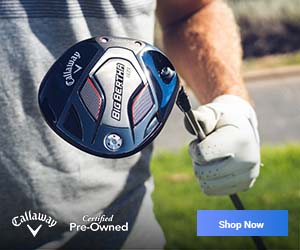 Callaway Preowned Irons Easy Online Store Layout And Options
With the available selection of Callaway preowned irons and iron sets, various customization options and top-notch customer service, purchasing a preowned iron set through their online store should be a breeze.
They have Mavrik Irons, Apex Irons, Epic Forged Irons and Big Bertha Irons as well. Price can be as low as $567 depending on the model you're after. They have models suitable for both men and women and either left or right-handed.
It is also worth mentioning that single or individual irons are available in their site as well. If you've lost a single iron in the golf course before or for whatever reason your iron set is missing some, Callaway Golf Preowned have an inventory of single irons that can help make your set complete once again.
They have single irons for various Callaway Golf models and quite a few single irons from other brands as well. If you are looking for a specific single iron, you can also contact them and they will gladly offer their help.
Finding the perfect iron for you in their list of available irons is also easy in their website. You can sort the selection by "Best Match", "Most Popular", "Price High To Low" or "Price Low To High". Click here now to look at the most popular iron sets in their listing.
Don't forget that you can also trade in your old irons through their trade-in, trade-up scheme so that can be an option for you as well.

Callaway – A Quality Brand With Top Notch Products
It is well-known that Callaway's iron technology is outstanding as they combine precision iron control with the utmost forgiveness. Their designers are meticulous in improving weight distribution along the club to provide optimum benefit to the user.
Whether a new set or something from their preowned products, rest assured that the quality you'll be getting from the Callaway brand is world-renowned and top notch in every aspect.
The guarantees and warranties they have in place is also a testament to the commitment they have on their golf clubs and other golf products.